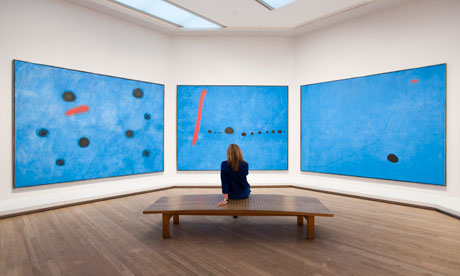 A work trip to London this week gave me a chance to catch the Miro exhibition at Tate Modern. (In addition: the Schiller play at the Donmar Warehouse: fine production but somehow familiar and irritating plot.)
The exhibition has a broad historical sweep: from early paintings such as
The Farm
to late burnt canvases. Whilst it is never going to be as impressive as the Fundacio in Barcelona and has fewer gloriously playful works, although this may be matter of perception (see below), there is a strong sense of historical coherence.
But the most striking aspect of the exhibition for me was a feature of the curator's notes. The historical sweep of the works is mirrored by an account of the political context in which Miro worked. The rise of fascism in Spain, for example, forced Miro's move towards realism in
Still Life with Old Shoe
. The notes read: "He went into exile in France in late 1936 but the Civil War dominated all aspects of his work.
Still Life with Old Shoe
is the key oil painting of this moment, capturing the sense of disjuncture even in mundane objects. It is both everyday and wildly disconcerting."
Thus we learn of a picture in which what I would previously have thought to be a whimsical and friendly little Miro bird with a Ready Brek glow was painted at a time when Miro was increasingly following, and worried about, the battle for air supremacy and itself represented the horrors of aerial bombardment. Whether this is really supported, quotations go some distance to showing the extent to which Miro himself took his paintings to be commentaries on the very serious matters of the time. It is not so much the works themselves but the works juxtaposed with this depressing political backstory which seems wildly disconcerting.